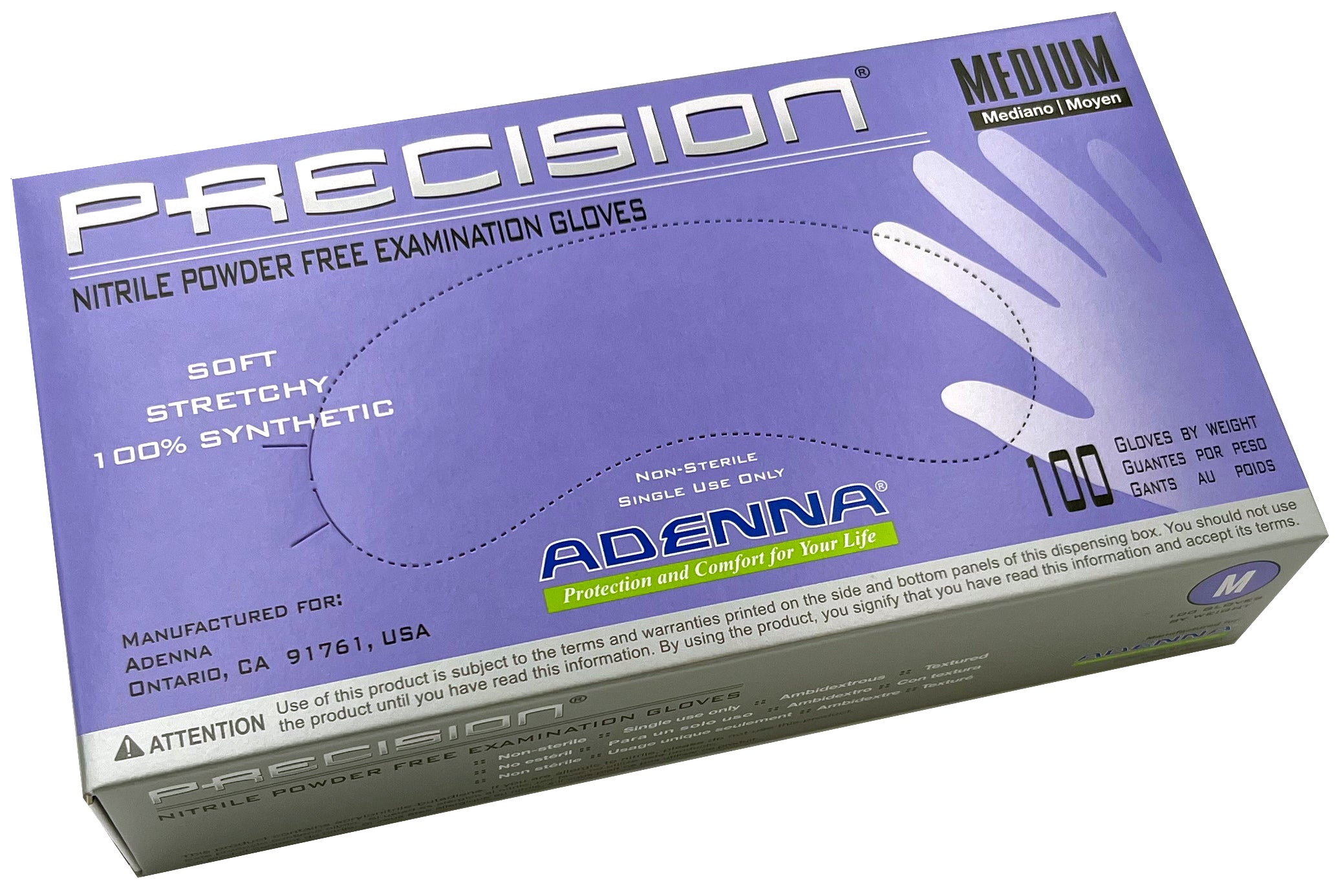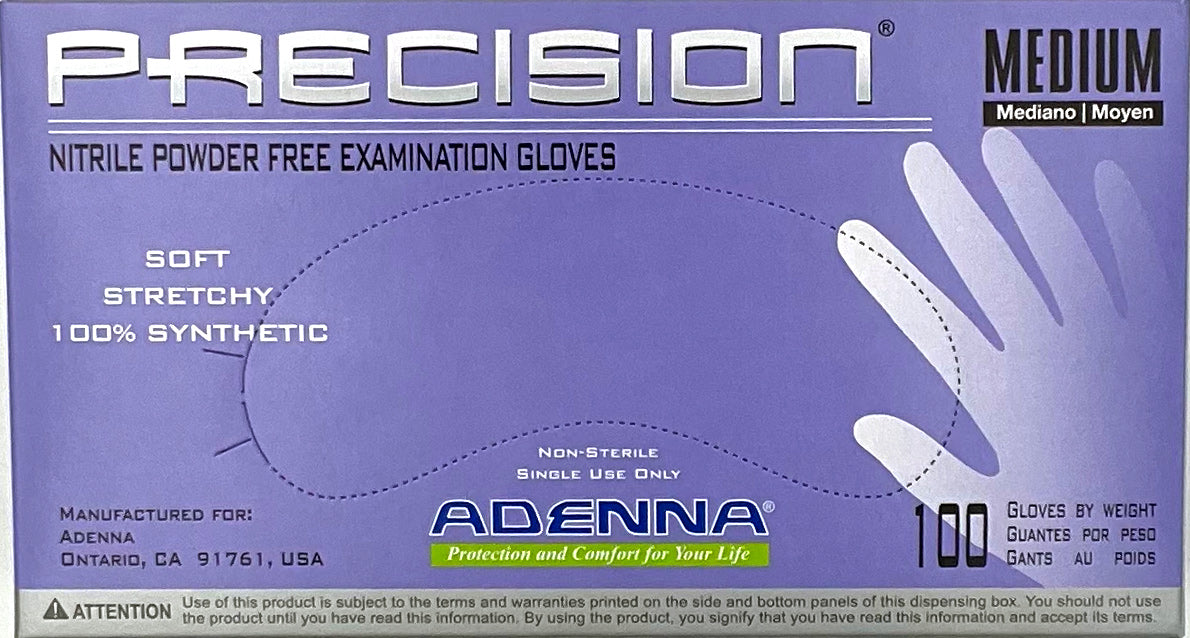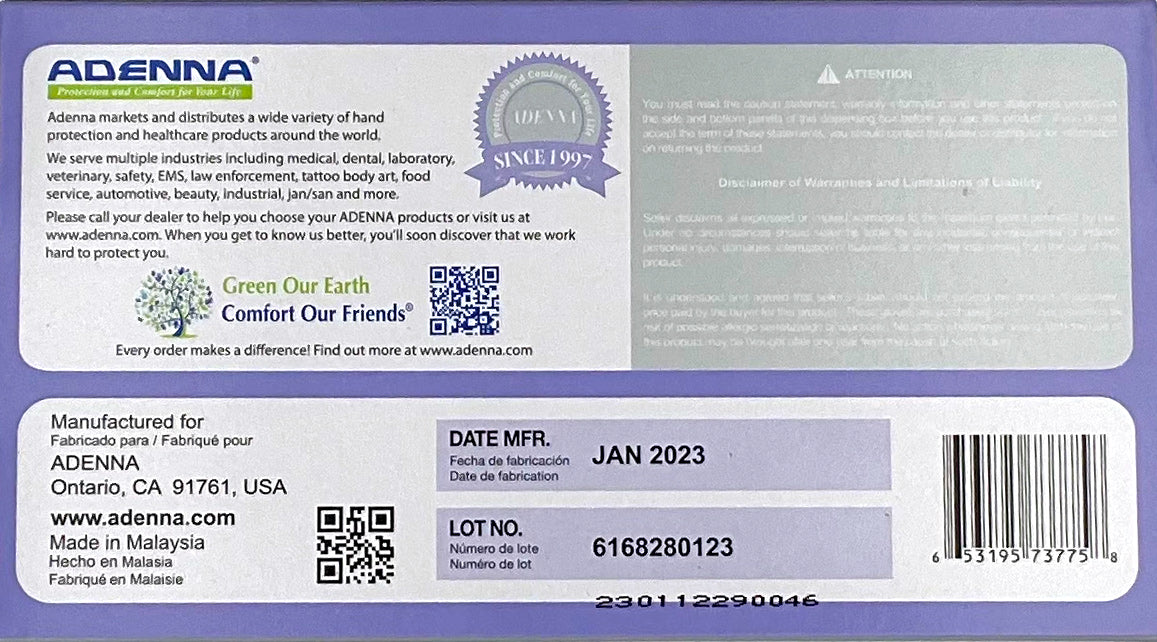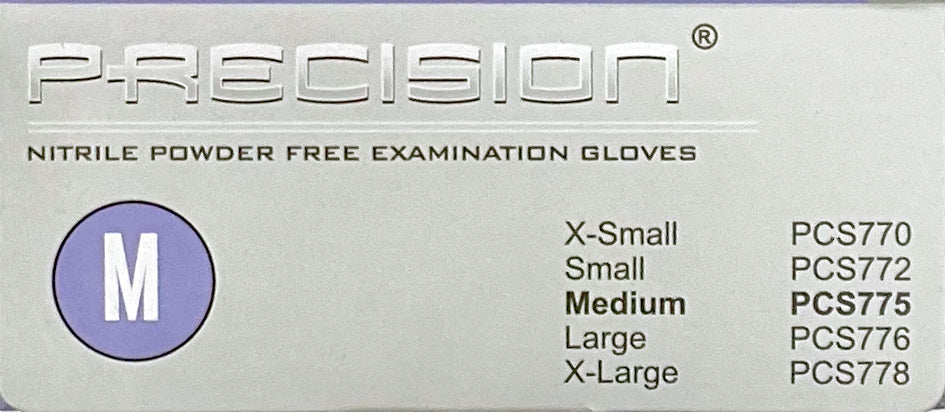 Adenna Precision Nitrile Exam Gloves, PF, 4 mil
---
Adenna Precision powder-free nitrile exam gloves are violet in color and are ultra soft and super stretchy, designed for a very comfortable fit and to reduce hand fatigue. Adenna Precision gloves are 100% latex-free to eliminate potential allergic reactions to latex protein. These nitrile gloves have a textured surface that provides a strong grip for both wet and dry applications and provides superior puncture, tear and chemical resistance with excellent dexterity.
Price listed is per box of 100pcs.
View our shipping rates and information here.
Adenna Precision Nitrile Gloves have been reviewed and received a 4.5 rating by The Dental Advisor. Read more.
Adenna Precision Nitrile Exam Glove Solution Type
Material: Nitrile
Fitting: Ambidextrous
Cuff: Beaded
Glove surface: Full textured surface provides superior grip in wet or dry applications
Glove interior: Smooth interior finish for easy donning and comfortable wear
Color: Blue
Protein content: None
Quality certification: Meets ASTM D3578-99 requirements
Usage: Non-sterile, single use
Is the glove made of latex? No
Adenna Nitrile Exam Glove Product Highlights
Precision® Violet Blue Nitrile Powder Free Exam Gloves are unique in a sense that they are ultra soft and super stretchy from a low modulus formulation to reduce hand fatigue for maximum comfort.  They are 100% synthetic and latex free with a textured surface to provide strong grip in both dry and wet applications.  Precision® Nitrile Gloves are thinner for maximum dexterity but very strong to provide superior barrier protection
Ultra soft and super stretchy for a very comfortable fit and to reduce hand fatigue
100% latex-free eliminates potential allergic reactions to latex protein
Textured surface provides strong grip for both wet and dry applications
Superior puncture, tear and chemical resistance with excellent dexterity
Nitrile Exam Glove Product Specifications
Tensile Strength Before Aging: 16 Mpa (min)
Tensile Strength After Aging: 15 Mpa (min)
Elasticity/Elongation Before Aging: 500% (min)
Elasticity/Elongation After Aging: 400% (min)
Thickness at Palm: 0.06-0.09mm
Thickness at Finger: 0.09-0.12mm
Glove Length: 240mm or 9.5 inches from tip of middle finger to the edge of the cuff
Palm Width: X-Small 80+/- 5mm
Palm Width: Small 85+/-5mm
Palm Width: Medium 95+/-5mm
Palm Width: Large 106+/-5mm
Palm Width: X-Large 115+/-5mm
Adenna Precision Nitrile Exam Glove Manufacturer Part Number
PCS770
PCS772
PCS775
PCS776
PCS778