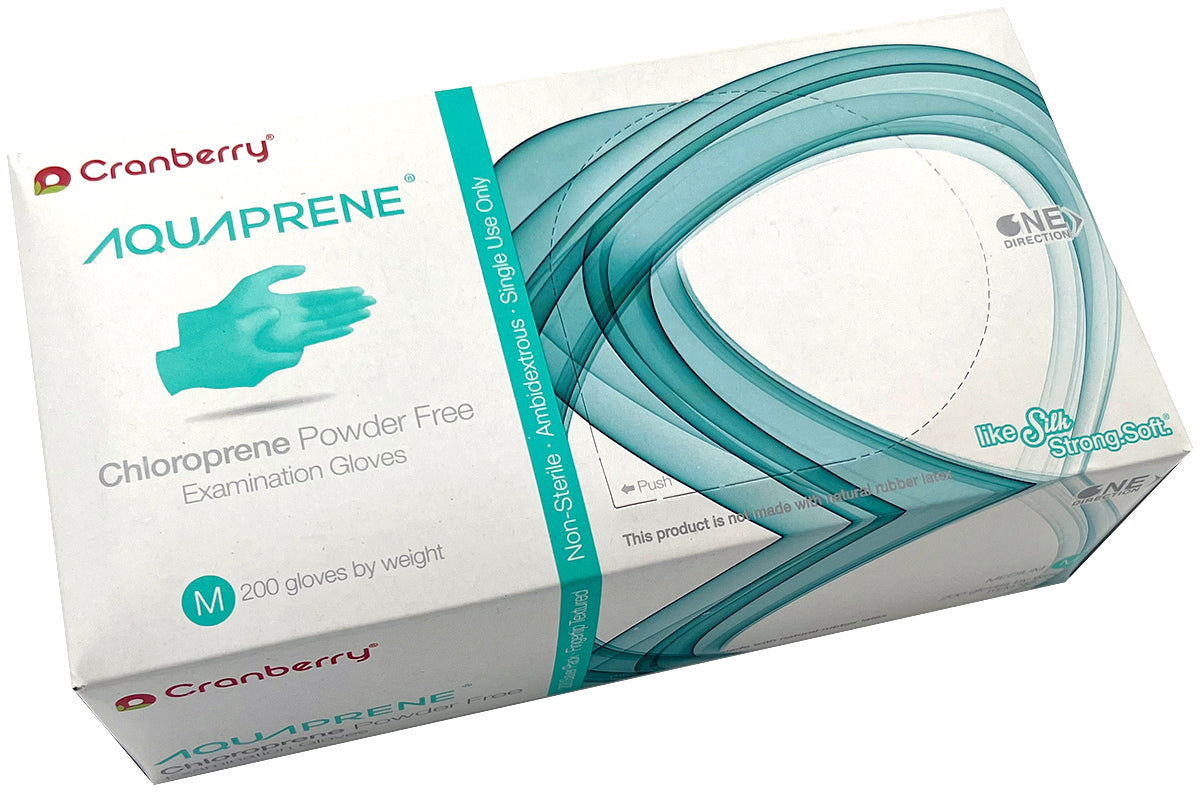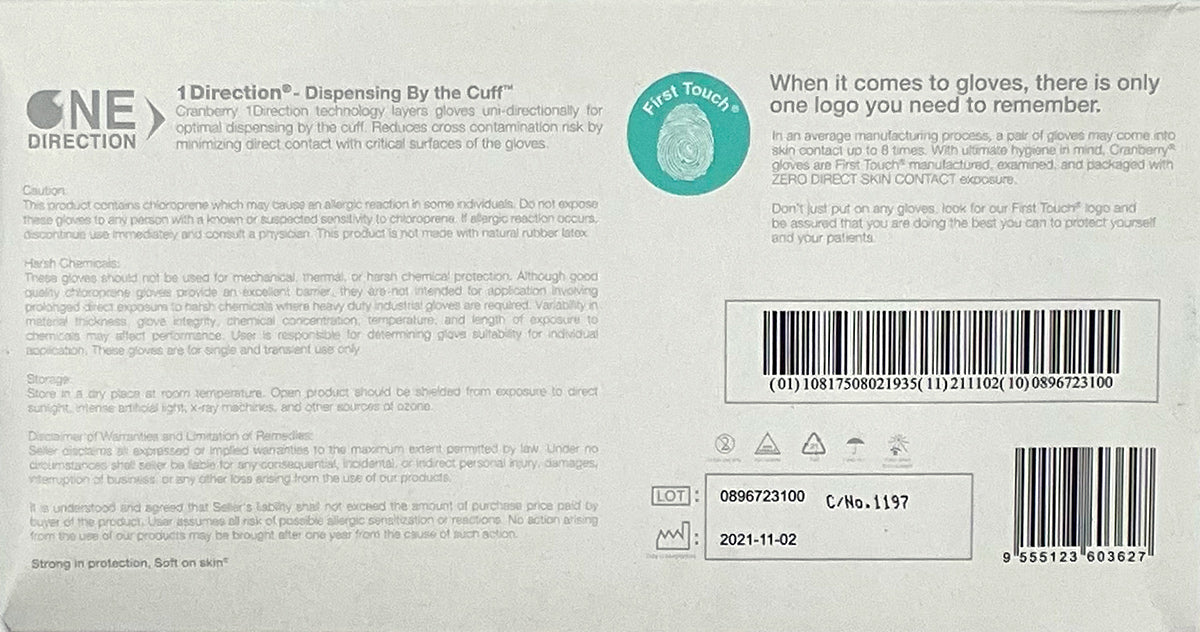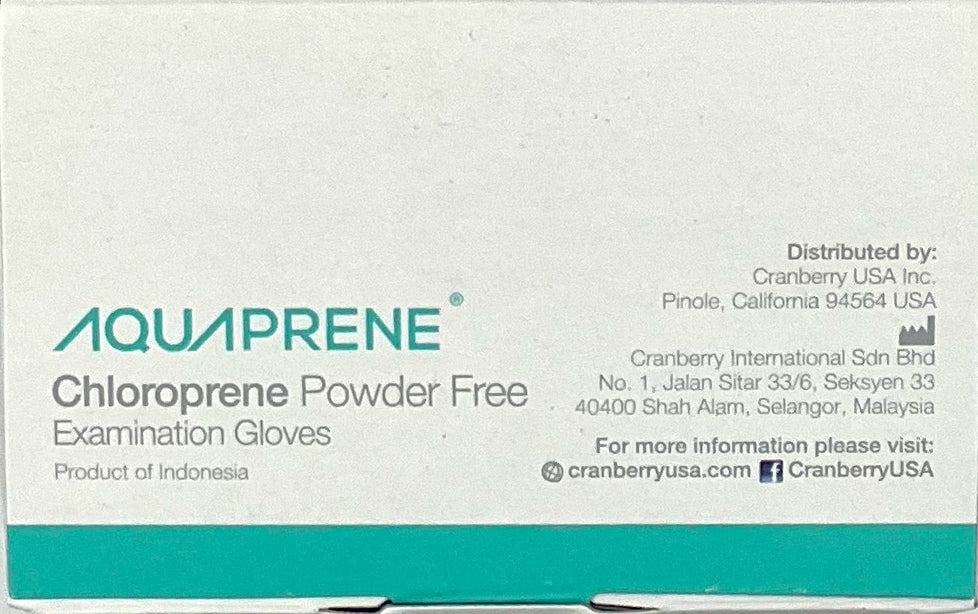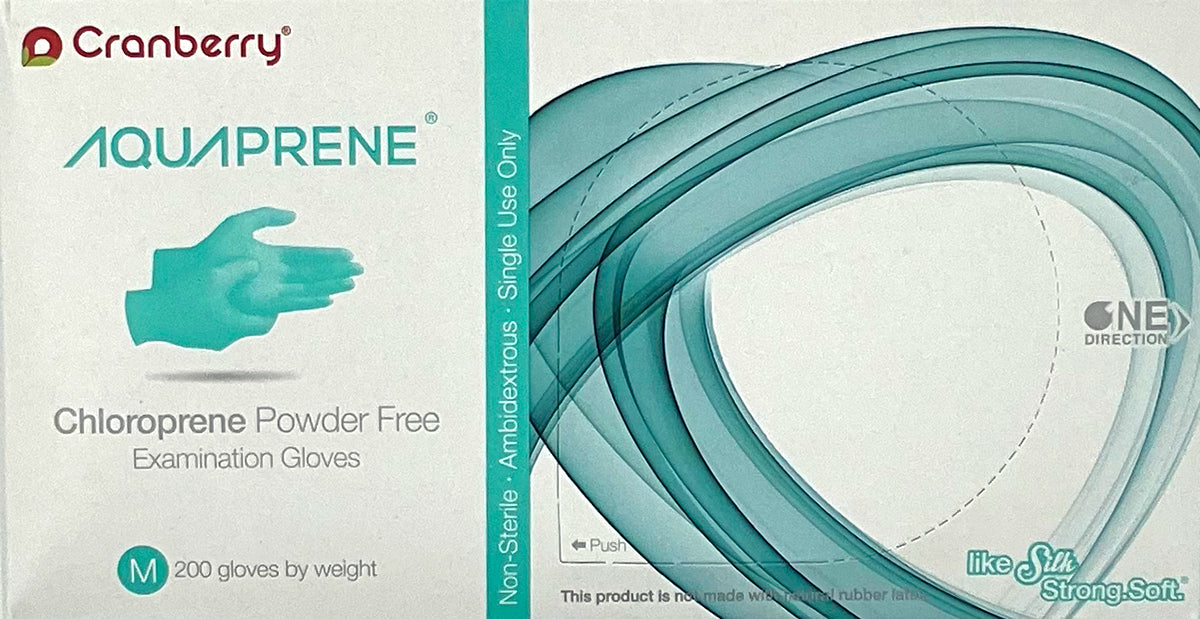 Cranberry Aquaprene Gloves, Chloroprene Gloves (200 gloves/box)
---
Cranberry Aquaprene gloves are made from Chloroprene (also known as neoprene). Chloroprene provides the strength and comfort of latex and the elasticity of Nitrile.
Cranberry Aquaprene gloves are powder-free. They are approved for medical use and are passed by independent testing laboratories to EN and ASTM tear and puncture-resistance standards.
Price listed is per box of 200 pieces.
View our shipping rates and information here.
Cranberry Aquaprene Glove Solution Type
Material: Chloroprene
Powder: None
Fitting: Ambidextrous
Glove surface: Enhanced fingertip texture for superior handling and
increased control
Glove interior: Smooth interior finish for easy donning and comfortable wear
Color: Aqua blue
Quality certification: Meets ASTM and EN tear and puncture-resistance standards. Approved for medical use.
Usage: Non-sterile, single use
Is the glove made of latex? No
Chloroprene Exam Glove Product Specifications
Tensile Strength Before Aging: 14 Mpa (minimum)
Tensile Strength After Aging: 14 Mpa (minimum)
Elasticity/Elongation Before Aging: 500% (minimum)
Elasticity/Elongation After Aging: 400% (minimum)
Thickness at Palm: 0.07mm ± 0.02 mm (minimum)
Thickness at Finger: 0.09mm ± 0.02 mm (minimum)
Glove Length: 240 mm or 9.5" from top of middle finger to edge of cuff (minimum)
Palm Width: X-Small 76 mm ±4
Palm Width: Small 86 mm ±2
Palm Width: Medium 95 mm ±4
Palm Width: Large 106 mm ±4
Palm Width: X-Large 115 mm ±4
Cranberry Aquaprene Glove Manufacturer Part Number
CR3025
CR3026
CR3027
CR3028
CR3029